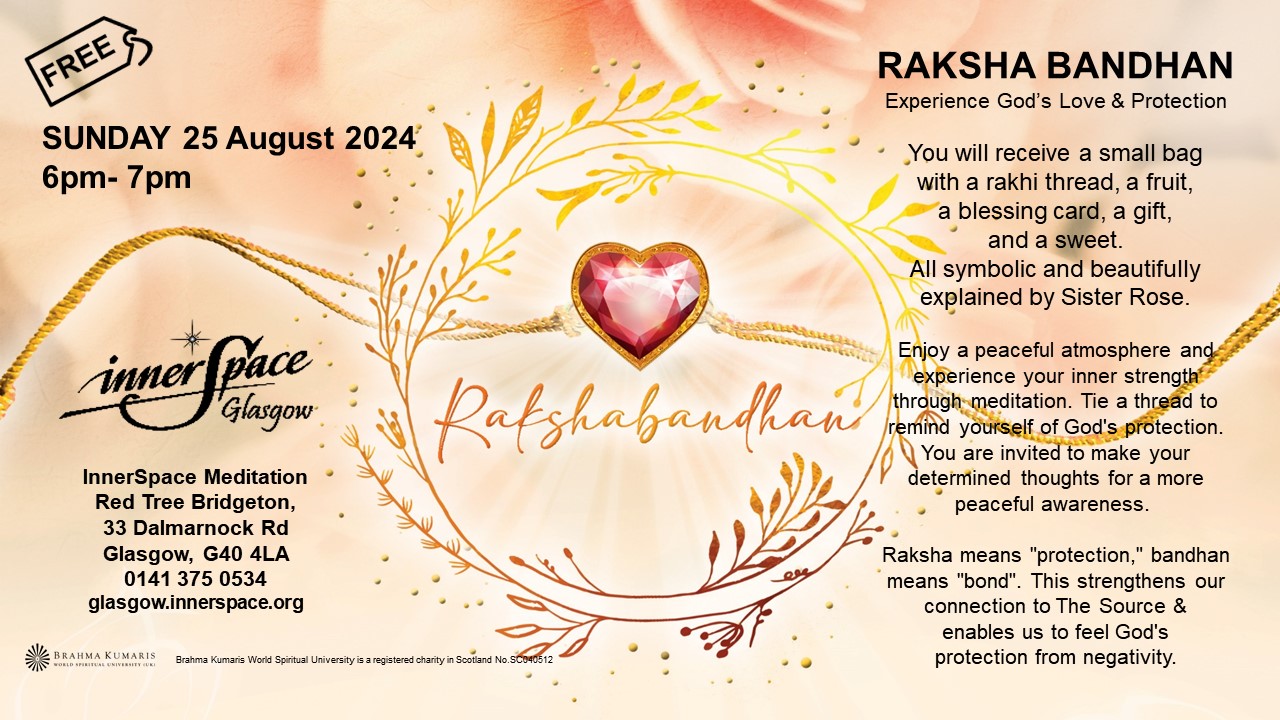 Free Talk & Meditation
6 August 2pm – 3.15pm
RAKSHA BANDHAN
Experience God's Love & Protection
All welcome
You will receive a small bag with a rakhi thread, a fruit, a blessing card, a gift, and a sweet.
All symbolic and beautifully explained by Sister Rose.
Enjoy a peaceful afternoon and experience your inner strength through meditation.
Tie a thread to remind yourself of God's protection.
Join us for a peaceful & powerful afternoon with Sister Rose
Sister Rose shares her perspective on Rakhi.
You are invited to make your determined thoughts for a more peaceful awareness. Raksha means "protection," bandhan means "bond".
Tying a rakhi thread on the wrist symbolizes a determined thought to return to the original peaceful nature of the soul through relationship with The Divine.
This strengthens our connection to The Source & enables us to feel God's protection from negativity.
To live a spiritual life is to live a natural life, for despite our physical nature and circumstances; we are all, actually at our core, spiritual beings.
Recognize this innate spirituality and create a stable foundation upon which to build a stress free, happy life no matter what the situation!
Address: InnerSpace Meditation Centre
Suite 16
Academy House
1346 Shettleston Road
Glasgow
G32 9AT
07485 117859
Email:This email address is being protected from spambots. You need JavaScript enabled to view it.
Transport: Near Shettleston Train Station
First Bus number 2 (or 60, 60A to train station)
If driving enter via Killin Drive G32 9AY .
Buzzer 16 to enter car park & we will lift the barrier & at front door press 16 CALL.
Main door to left of building as you face the front of building.
If walking there is a gate on right of building.